Black Tie Certified DJ Staff
DJ Zachary B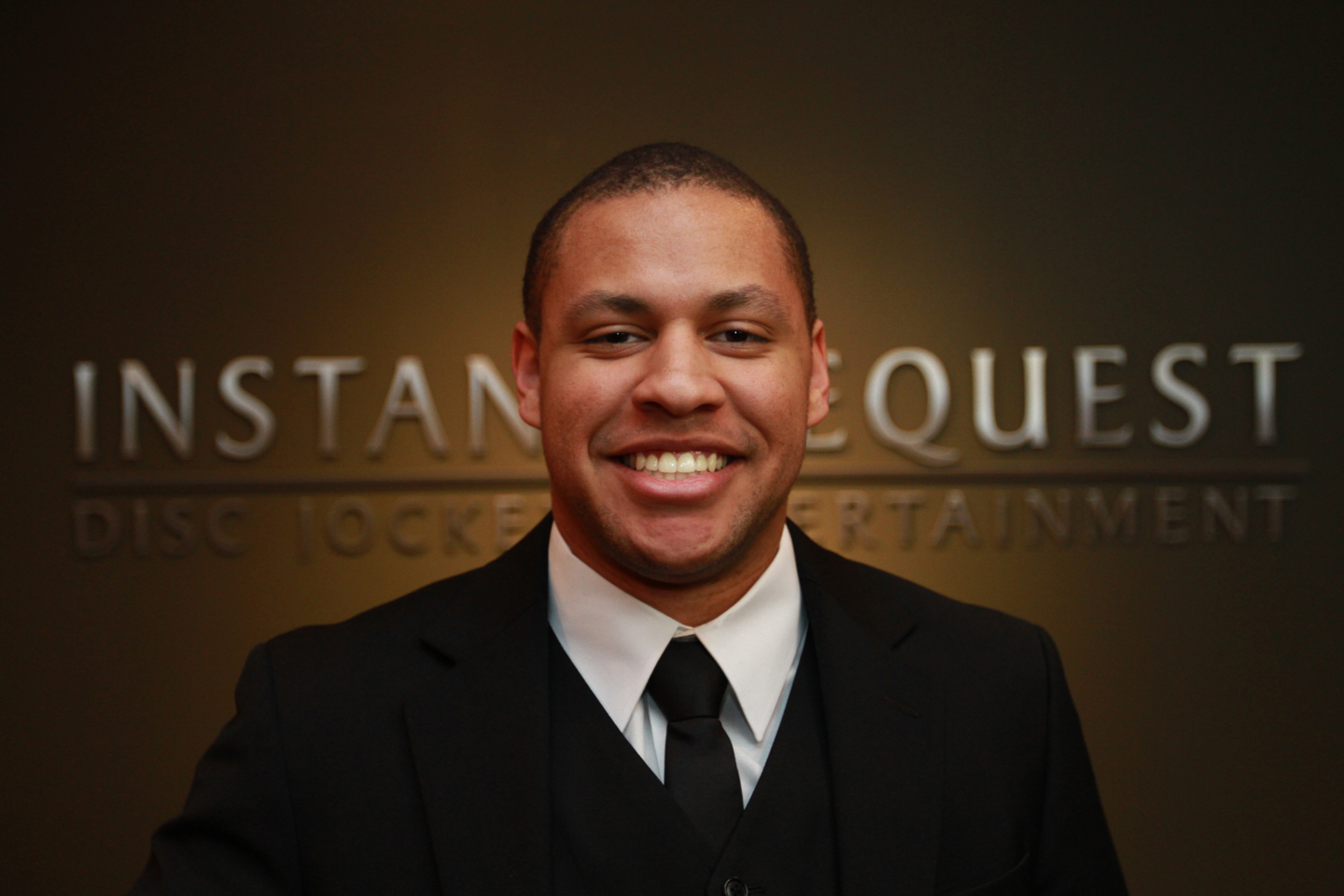 Zachary grew up in St. Louis Park, MN and has loved to the Twin Cities to much to leave. Zach started playing violin in the 3rd grade, he loves attending orchestra
concerts and he has always been moved by music. When Zach isn't playing music he is working as a massage therapist and an marketing executive for a wellness company.
Zach pursued becoming a DJ after attending a wedding as a guest where the bride requested the Wobble but nobody knew how to do the steps, so Zach went out to the
dance floor and showed everybody how it's done. Zach is fluent in Spanish.
---
I would highly recommend Instant Request to any bride and groom looking for a DJ! Right off the bat, Matt was very easy to communicate with and he responded to emails quickly. My husband and I ended up choosing the Black Tie Certified option and after reading through reviews we chose Zach B as our DJ. We are very happy with that decision! Zach was full of energy and made our reception a blast. We had a list of songs he could play but we mostly gave him the reins to just read the crowd. He did a great job at that and had people out on the dance floor the entire night (myself included.) Bottom line: hire Instant Request (and Zach B) for your DJ service, you will not be disappointed! – Lindsey and Andrew @ 3 Ten Event Venue
DJ Zachary did an outstanding job with our wedding! The dance floor was packed all night and music was awesome! Would definitely him for anyone needing a DJ for an event! Thank you so much for making our wedding the party of the year! You truly have a gift of keeping people on the dance floor with smiles on their faces. We could not have chosen a more perfect DJ! – Molly and Bryton @ Landmark Center

Amazing job from start to finish! Incredibly easy to work with. They provided a completely customized experience that played to our style! – Allisia and Eric @ Oak Glen Golf Club

It was amazing to work with Instant Request. We really appreciated how attentive and extremely organized they were. Our DJ got everyone together on the dance floor with an excellent blend of music and styles. Zachary B shout out! He was AMAZING!!!! Thank you Zach for the best night ever! And thank you Instant Request for hooking us up! – Rachael and Emiliano @ St. James Hotel in Red Wing

We worked with Instant Request for our wedding at Gale Woods Farm in October. All I have to say is WOW!!! We purchased the Black Tie package and Matt was wonderful to correspond with! He answered all of my questions thoroughly and promptly. We chose DJ Zach B and boy am I glad we did! We could not have asked for a better DJ! Zach read the crowd, interacted when need be but stayed back and just let the dance happen when he felt nothing needed to happen. He was great about making sure we stayed on task for speeches as well as helped get the wedding party assembled and ready for the opening "parade" in! He was so organized and respectful, yet so fun and down to earth! Our dance floor had no less than 40 people on it all night. It never stopped! I truly felt like Zach was a guest at our wedding and not a paid employee at our event! He honestly cared about my wife and I and we are so grateful for him! We even invited him out to the bar with us after the wedding with our friends and he came and chatted and was just part of the group. We have had so many people message us and ask for his name, including our wedding caterers (who have been to thousands of weddings themselves). They want to share Zach's name and Instant Request when people ask if they have suggestions. Thank you Instant Request for helping us find Zach! We loved him!!! – Sara and Mari @ Gale Woods Farm

Zach was AMAZING!!! We have gotten so many comments about how fun he was and how full he kept the dance floor throughout the entire reception! – Hannah and Justin @ Minneapolis Marriott West

Our DJ Zachary was the perfect fit for our wedding. He was great with the crowd and everyone had a great time!! We could not be happier with our DJ choice. Thank you again!!! – Nichol and Nicholas @ Private Residence

Matt and Mitch: You guys are amazing! It was so nice working with such an organized system! Our experience with Instant Request was out of this world! Thanks again for everything! Hope we can use you in the future for another party! Now…DJ Mad Love Zach B! You were one heck of a top notch beat bumpin DJ! Best Ever! We all had a blast! I knew you were good when the only words i said to you all day were hi, bye, thank you! You do a great job and we were so lucky to be paired up with you! Thanks for making our wedding better than perfect! – Megan and Ben @ Private Residence

DJ Zachary was awesome! He kept the dance floor moving all night and played music for all of the guests including Elvis Presley, 80's music, and today's hits. I would highly recommend! – Tori and Benjamin @ St. Elizabeth Ann Seton Catholic Church

Wow!! We were very very impressed with Zachary. I am going to be honest, we were very nervous going with a large company such as Instant Request for a DJ. We all know that if the DJ sucks at a wedding, it can ruin the entire mood. Our wedding coordinator, Cassie West, suggested we request Zachary because she had seem him at another wedding. We are so happy with both Instant Request and Zachary!! A year before the wedding I spoke to a representative of IR and told him certain things I would like, etc. to match me with a DJ because Zachary was not promised to us. During this long year we had time to update our "DJ planner" with requested songs, ceremony order, dislikes, and seriously so much more!! Two weeks prior to the wedding we got an email – we got Zachary! Still – I was nervous. The wedding was two weeks away and we have never spoken to or met this guy. Well, he called us a week prior to the wedding and asked every question you could possibly think of to make the day go smoothly. We used their service for both the ceremony and the reception and there was not a flaw in sight!! Zachary had people on the dance floor ALL NIGHT! I mean all night. I am not just saying this because it was our wedding, but NUMEROUS guests, including myself, told me how they had never seen such a busy dance floor (or such a fun one either!). Thank you Instant Request & Zachary!! Brides – book them if you want a flawless, stress free ceremony and reception 🙂 – Sydney and Connor @ Mayowood Stone Barn in Rochester

Working with instant request was amazing! Anytime I had questions Matt was there to answer them… he first helped me getting a wedding timeline because I had to clue where to start then he also made sure I was going to have our first dance song because it was a very uncommon song and Instant Request came through! Zachary was our DJ and he was amazing. He was exactly what our wedding needed! He even got out on the dance floor to guide some guests in the cha cha slide!! Also, using their wedding planner was perfect. It was a little over-whelming at first but it was totally worth it! We were able to pick exactly what songs we wanted for what and even create a do not play list. Overall Instant Request was great and I would highly recommend them! – Alicia and Jay @ Chaska Event Center

HIGHLY recommend Instant Request!! We had Zachary B and LOVED him. He was very organized and kept everything running smoothly on our wedding day. The flow of the day is really important and does rely heavily on your DJ. They are awesome – look no further! The online planner was also really helpful throughout the planning process. Thanks all!! – Gretchen and Jay @ Solar Arts Building

Instant Request made everything very steady and smooth. They have a great song selection to choose from and are as engaging with the crowd as you want them to be. Definitely recommend them for your wedding! – Shannon and Cristian @ Aria
Zachary was a phenomenal DJ, there wasn't a dull moment on the dance floor and we couldn't be more thankful! Instant Request was a great choice and I will definitely recommend them in the future! 🙂 – Haily and Nicholas @ Somerby Golf Club