Mackensie and Drew McBeain's wedding wedding reception at the Wayzata Country Club was so much fun! The bridal party entered the ballroom to Ke$ha's Blow. They certainly put the "party" in bridal party! Earlier that week Jimmy Fallon aired a skit that featured Justin Timberlake about what people would sound like if they used hashtags in their everyday speech.  Mackensie and Drew embraced the humor from that Late Night skit and made it their official word of the day…#hashtag.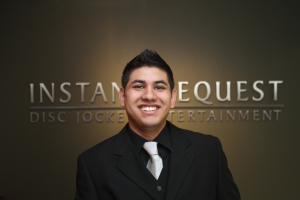 Instant Request DJ and Emcee for the night John A, says the wedding reception rocked so hard the dance floor moved a few feet from where it was originally placed by the end of the night!
Our DJ John A was AMAZING! He fit our style to the T. During the ceremony, he was always checking up on us and very creative with the songs! We had people of the dance floor all night long, which is exactly what we wanted! He also was dressed very professional and acted in that manner the whole time all the while seeming like he was having a blast with us!
The wonderful events of the day were expertly captured by Laura Wills Photography at the gorgeous Wayzata Country Club and The Woods Chapel. Take a look at Laura Wills' photo blog to see pictures of this wedding and some great wedding ideas!
If you would like to have DJ John A at your wedding contact us or call 952-934-6110 today!